In need of a high end video production company in Albany NY?
Look no further…..Janis Digital Media of Phila PA is the answer to that question.
Even though we're based in PA, we provide the best in video production services for the entire Northeast region of the USA, Albany NY included.
Janis Digital Media has been a leader and innovative force in the realm of broadcast quality video production for over 25 years, while being regard as a pioneer in the industry.
Contact Us today with questions or queries about your upcoming video production project. We'd like to help you complete your project in an efficient and effective manner. Contact us today!! 
Here's the new testimonial page!
For over 25 years, Janis Digital Media has been the leading choice for video production in the Albany, NY and surrounding areas. Through hard work, strong commitment to excellent customer service, and unshakeable dedication to quality, the company has established a brand that clients equate with innovation and results.
Here are a few video pages describing a bit more about the different types of video production services we offer at Janis Digital Media.
Janis Digital Media is the brainchild of John Bell, a former producer and tech expert at NFL Films in the 1980s. When John Bell started the company, he had only one goal in mind — to uphold the highest standards in video production to create highly creative videos and provide only the best services. Today, true to the vision of its founder, Janis Digital Media is one of the most sought-after video production companies in the country. But no matter how far the company has moved, it still constantly finds more effective ways to help businesses promote their products and services through video production.
Janis Digital Media prides itself on two things: its file-based advantage and its state-of-the-art equipment. The company's team of highly skilled cameramen and directors capture videos using the Panasonic HPX 500 P2 Camera, a solid state camera that is perfect for even the harshest conditions. There are no more video tapes involved; therefore, the transfer, uploading, and conversion of files are hassle-free.
Janis Digital Media offers a variety of services that include the following: music videos, settlement brochures, day in the life video productions, small biz video productions, corporate video presentations, non-profit videos, photo montage videos, and multi-camera event coverage.
Albany was officially made the capital of New York a few years before the turn of the 18th century, but its history is marked by many milestones and goes back more than 400 years, including being one of the oldest surviving settlements among the Thirteen Colonies. Today, the Albany metropolitan area is home to approximately 1 million diverse residents — varying in age, culture, and socio-economical status.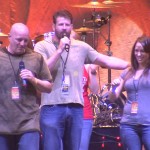 To understand the video production needs of a city as diverse as Albany, a video production company must be experienced and strongly dedicated to quality. With over 25 years in the business, Janis Digital Media can definitely deliver results that defy the normal industry standards.