Video production services in Baltimore MD…..
There's no choice but Janis Digital Media for all your video production projects. Whether you're an individual, company or some organization, Janis Digital Media is there to help in any way possible.
Janis Digital Media has been in existence for more than twenty five years while producing thousands of videos along the way.
You're in great hands in Janis Digital Media when it comes to planning, coordinating, shooting, directing, producing and editing the video.
Check out our testimonial page that will be updated in the coming weeks: Testimonials
Feel free to touch base with us regarding your proposed or upcoming project. Even if we're booked for that particular day, we can give you advice on how to proceed with the video production. Janis Digital Media, experts in all areas of video production!! Contact Us 
In reference to video production, Janis Digital Media offers: corporate video presentations, small business marketing clips, legal mediation productions such as "day in the life" or settlement brochures, music videos, non-profit organization productions and many, many more.
In this current technologically advanced age, high def video productions are in high demand and high def videos are Janis Digital Media's signature product. The owner and proprietor, John Bell, has been in the film and video business for over 40 years. First with NFL Films during the '70s and early '80s and started Janis Digital Media in 1984. Also having a side career as a professional photographer during the '70s, has given him the ultimate eye for lighting and artistic creativity. Janis Digital Media is considered one of the pioneers in the video production movement from the early 1980s.
With regard to equipment, Janis Digital Media only uses the very best in broadcast quality video gear. You won't find any consumer grade gear in our building, only the best. The cameras are Panasonic HPX P2 cams that capture amazing high def footage.  With three full Avid editing suites, they are staffed by the finest professional video editors on the market. Expect only the best in video production for your Baltimore MD based business or organization.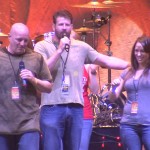 Here are a couple more video production archives:
Baltimore is an amazing city and probably one of my favorite cities in the USA. Always try to make it into the Inner Harbor or Fells Point whenever possible. The aquarium in Baltimore MD is one of the top aquariums in the entire country, well worth the visit! And Baltimore is also home to the professional teams Baltimore Ravens and Baltimore Orioles.
With regard to industry, Baltimore is a mixture of manufacturing, big business, corporations, retail, food and of course a plethora of service based industries.
Video production is a viable product/service for just about any industry in Baltimore MD and Janis Digital Media is there to provide it's video production expertise to those in need of the best by a professional staff!

And if you get the chance, check out Camden Yards, home of the Baltimore Orioles!!