Looking for a premier video production for Fairfax County in Northern Virginia?
Look no further than Janis Digital Media, a pioneer and innovator in the video production industry.
Janis Digital Media has been providing individuals, companies and organizations with professional high end video production service for well over twenty years while being considered one of the top film/video companies in the industry.
Contact us today with regard to your upcoming or proposed video production project. We will be glad to give you a competitive quote or provide you with some valuable relevant information to get you in the right direction with the  upcoming project. Contact Page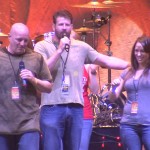 Also, here is our new testimonial page! Testimonials
Janis Digital Media provides many types of video production services including corporate video presentations, small biz marketing initiatives, legal mediation videos and even full blown film productions if that's something you wish to pursue.
Professional high def video production services are the signature mark for Janis Digital Media as we provide the absolute best in all types of video production for your business or organization. The owner and sole proprietor, John Bell, has been in the film/video production business for over 40 years. Fifteen years at NFL Films as a film producer and the remaining 25 years as an innovator in the video production industry.
With regard to video production equipment, Janis Digital Media only uses broadcast quality professional cameras and equipment. No consumer grade equipment.  All video footage is shot in high definition
using one of three Panasonic HPX P2 cameras. With 3 AVID editing suites on the premises, all video projects are completed efficiently by our professional video editing team.
Expect only the best in video production for the Fairfax Virginia and the surrounding regions!!
Fairfax County and its county seat, the city of Fairfax, are part of the Washington metropolitan area.  The county ranks high on the list of "best places to live in the U.S."  History and Fairfax are synonymous.  The Fairfax and Northern VA region played a defining role in our Country's past.  Notable homes, museums, and civil war battlefields are only part of the charm.  Premium shopping, vineyards, horse racing and a national park for the performing arts attract tourists and contribute to the economy.
Here are a couple more videos from the archive:
An award winning video production company like Janis Digital Media can help promote sites and events for the region.  High definition cameras and a top-notch crew enable Janis to create a professional product that consumers, organizations and corporations in the Fairfax VA region will appreciate.