Where do people in North Bergen NJ go for high end video production services?
The only answer is Janis Digital Media, the experts in all types of film and video production.
Janis Digital Media, pioneers in the film and video industry, are available in the North Bergen region for all your video production needs and projects.
Feel free to send us an email or give us a call to discuss your upcoming or proposed video production project in full detail. Contact And also check out the new testimonial page that will be updated frequently. testimonials
Janis Digital Media provides many different types of video productions including small business marketing videos, corporate video presentations, feature films, legal mediation videos such as settlement brochures and many others: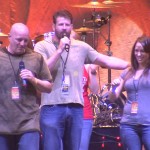 North Bergen located in North Jersey, across the river from NYC, features many retail locations, restaurants and some smaller corporations. With the established Urban Enterprise Zone, North Bergen is revitalizing the area to increase the flow of shopping dollars. With the many businesses in the area, the North Bergen NJ area has the potential for much with regard to video production. Janis Digital Media is there to provide all video production services.
Video production, especially top rated video production, is actually the trademark of Janis Digital Media for well over twenty-five years. John Bell, the producer and president, presents that special but elusive mixture of innovative creativeness in conjunction with the technical knowledge which is vital in the film or video production sector. Before starting up Janis Digital Media in the mid 1980s, he was a producer and film production expert at NFL Films while also being a very successful photographer during the decade of the  '70s.
Janis Digital Media possesses the best standards with regard to video production gear also. Virtually all video is filmed in high def utilizing Panasonic HPX P2 broadcast quality video cams. Together with 3 AVID editing suites, nearly all video production tasks can be finished in a short period of time. Expect just the best in video production for the North Bergen NJ area!!
A few more archived videos compliments of Janis Digital Media:
So if you're looking for the top video production company in North Bergen NJ, as well as the Philadelphia and New Jersey, then contact Janis Digital Media about your upcoming video production project!!