In need of a high end professional video production in Waldorf MD?
Look no further than Janis Digital Media, the leader and pioneer for the entire video production industry in Waldorf MD and the entire Northeast in the USA. We have been providing clients with the best in professional video production coverage for well over twenty five years.
As a major mover and shaker in the film and video industry, Janis Digital Media is always looking to provide video production service to all types of businesses and organizations.
Contact us via phone or email about your next video based project and we will provide you with a very competitive quote.  Contact Us Today!  And here's our new testimonial page! Testimonials
Janis Digital Media provides all types of video production services including training videos for corporations, seminars, small biz marketing videos, music band videos, small film productions along with all types of legal mediation productions like day in the life or settlement brochures.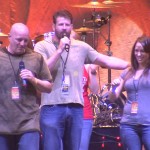 Janis Digital Media owner, John Bell, has been a major catalyst for the film and video production industry since the early 1970s. First as a producer at NFL Films and then as owner/producer/cinematographer with Janis Digital Media. He was also a very prominent photographer during the seventies.
At Janis Digital Media, only the best in broadcast quality video production equipment is used for all projects. Featuring three Panasonic HPX P2 cameras along with three Avid editing suites manned by the very best video editors in the industry.
Waldorf is located in Charles County, Maryland which is twenty three miles south of Washington D.C. It is an unincorporated community and a census-designated area. This means that the area is not governed by a local municipality and people residing in the area are not legally registered. According to the national statistics, the number of population is 67,752 in the year 2010.
More archived video via Janis Digital…
The original name of the place was taken from the name of a local family – "Beantown." For the longest time, people have used this name to refer to Waldorf, Maryland. However, in the year 1880, the town's name was changed to Waldorf to give honor to Mr. William Waldorf Astor. This great transition was headed by the General Assembly of Maryland. During the early years, gambling has become part of the lifestyle of the people living in the area. They enjoy playing slot machines especially that it was legalized by the Charles County in the year 1949. In fact, many individuals visit the area because of the tobacco industry and gambling establishments. This boom lasted only until 1968 aster the gambling activities had been outlawed by proper authorities.
So, with all the major industry in Waldorf, Janis Digital Media is there to help your business or organization in any way possible.